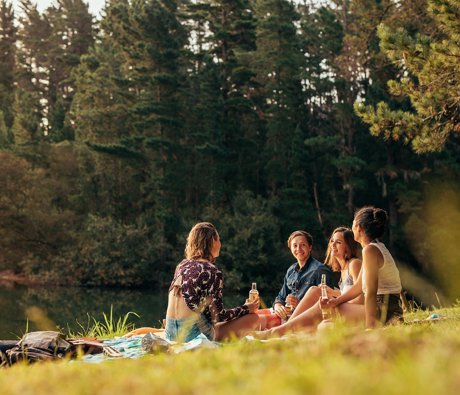 Escape from the hustle and bustle of the city on Brighton real estate. The Island Lake Recreation Area is perfect for both some down time and for kicking it up a notch. Scenic trails wind through almost 4000 acres of space.
Mother Nature is truly showing off. A true resource of the land residents take advantage of beautiful lakeside areas. Hikers are in their element traversing through shady and sunny trails. Pathways mingle in length and difficulty making it easy for all types of athletes to get back to nature. Bird watchers with binoculars in hand keep an eye out for elusive and familiar feathered friends. Bicycle paths appeal to bikers from all over the Brighton real estate region. Mountain bikers travel up hills and down while traditional cyclists pedal over smooth tracks. Teams of volleyball players are leaping and diving lakeside while soccer balls are kicked about on grassy open spaces. Close by canoes and kayaks ride the current on the Huron River. Rented canoes are available at Kent Beach for those who seeking adventure on the water but don't have their own craft.
Swimmers Living in Brighton Dive into Fun
Activity is in full swing on any given day. During warmer weather swimmers dive into the lake for some splashing around. Blankets are spread at two sandy beaches, at Kent Lake and Spring Mill pond. Campers get the most out of their time at various campgrounds. Island Lake Rustic Cabins are cozy and quaint. Those that want to rough it can access the remote Island Lake Canoe Campground accessible only by kayak and canoe. When the snow starts to fall is when winter merriment begins. Cross Country skiing provides peaceful moments of contemplation. Snowmobilers living in Brighton have a blast on snow covered unpaved trails.
Year round events frequent the park thanks to the dedication of the Friends of Island Lake. Popular happenings in the mix include scheduled hikes, meetups and more. Groups band together in camaraderie for day hikes, overnight trips, canoeing, kayaking and yoga on the beach. Make some time for recreation. The Island Lake Recreation Area is waiting for you.